Why do you need Slogans in English for School?
There may be various reasons for this. But commonly when someone establishes a new school or he renovates the existing school, he needs good slogans to write on the walls of the school. The students read these slogans and try to adopt the thoughts in their life. Here we are going to give you some attractive short slogans for this. These school mottos will also help you to make some of the best slogans in English for students.
These Slogans play an important role in the teaching-learning process. Children read these slogans spontaneously while walking in the school. This helps them to develop good habits. It tells them about the importance of education. As a result, they feel motivated and inspired to study more.
We have prepared a list of catchy School Slogans in English.
You can use these slogans as taglines for schools. Slogans for school walls can be written on the inner as well as outer walls of the school building. You can write slogans on school library walls. On the other hand, you can also write slogans in the library.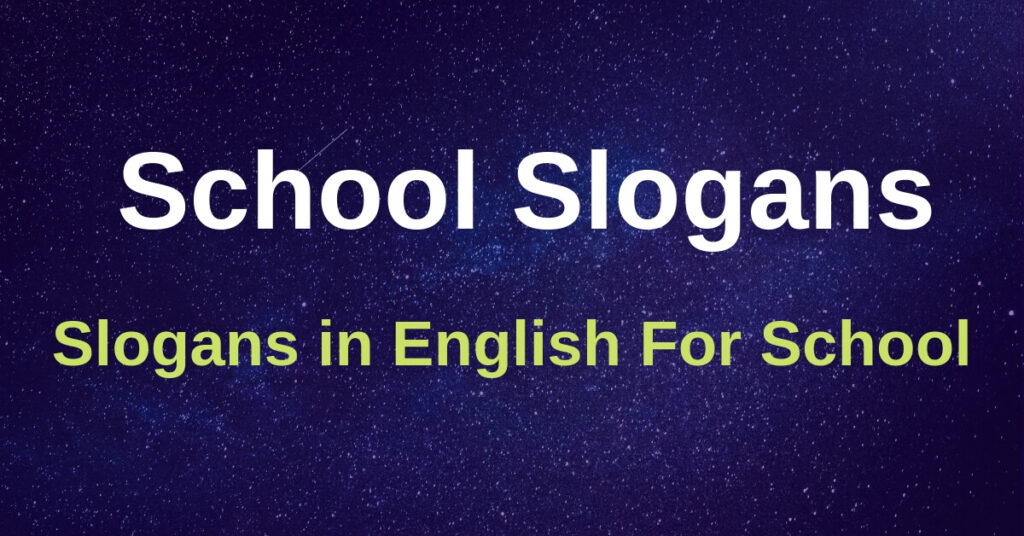 Put these slogans on where your students gather like a playground, morning assembly, lunch hall/mid-day meal hall, etc.
25 Slogans in English (School Mottos)
Here is the list of school slogans/mottos/taglines:-
Opening doors through literacy. Don't be mean behind the screen.
Education is bitter but the fruit is sweet.
Read, Lead, Succeed.
Education is power.
Today a reader. Tomorrow a leader.
Don't be mean behind the screen.
Knowledge is power.
Niceness is Priceless.
Politeness is Priceless.
Be the change you wish to see in the world
Slogans for School Assembly
No child should be left behind.
In order to succeed, you must read!
Education is a better safeguard of liberty than a standing army.
Every child yearns to learn
It is only the ignorant who despise education.
Books: Food for the Brain.
What goes around comes around.
Help, Don't Hurt.
Sail on a Sea of Books.
To exceed, you must read.
Best Slogans in English for Students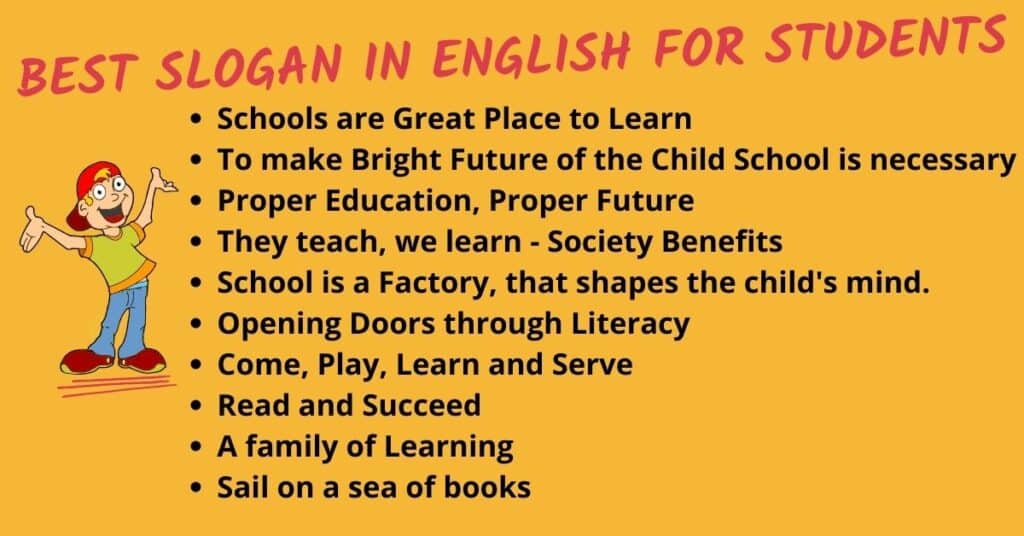 A Family of Learning.
Be a reader, be a writer, be a problem solver.
Bringing Excellence To Students.
Education – Your Door To The Future.
Hand In Hand We Learn.
Learning Today . . . Leading Tomorrow.
When we unite we do alright
Learning Today For A Better Tomorrow
Opening doors through literacy.
School, Family, Community
Be nice, work hard
Overcome evil with good
Strength with Kindness
Be a listener, Be a reader, Be a problem solver
Be safe, Be kind, Be smart
Students First
Come to learn, Go to serve
A happy school, A brighter future
Creating a path of knowledge
Inspiring children for exciting futures
The place, where students are #1
Touching success
Aim high, Together we will fly
The harder I work, the smarter I get
Only Success, Nothing Less
The End Depends Upon the Beginning
Hop to success
Hope to success
Play and Learn
Education is the manifestation of perfection already in man
You are the creator of your own destiny
Education can make it happen!
Education is what remains after one has forgotten what one has learned in school-Albert Einstein
Education is the most powerful weapon which you can use to change the world-Nelson Mandela
Successful and unsuccessful people do not vary greatly in their abilities. They vary in their desires to reach their potentials-John Maxwell
Our greatest weakness lies in giving up. The most certain way to succeed is always to try just one more time-Thomas A. Edison.
6 Tips to Write School Slogans (Education Sogan)
There is not any hard and fast rule to write slogans. Many great persons have quoted their experiences. Their experience then became a motto or slogan for essay writing. You can also make awesome slogans in English for school on your own. We try to deliver a great message with these motto examples for students.
I have quoted some of the beautiful slogans for school. In spite of that, you can create your own slogans. While creating slogans, you should keep some important points in your mind. Based on these points here are some tips to create your own:-
Highlight the key benefit of your school/education/teaching-learning process
It should be short. Keep in mind the shorter it is, the better it will be
Grammatically correct
Deliver the message honestly
Give rhythm, rhyme, or tone to the slogan
Ensure it can stand alone. It will deliver uniqueness to your slogan.
These are some of the best school slogans. This slogan list is prepared by reading so many mottoes, and slogans. We will continue to find more slogans for schools in English.
See also-How to become an elementary teacher in India
So in the last, I would like to say thank you for stopping by here. The school mottos shared by us are useful for Primary, & High School both. All these mottos are easy and memorable. And tell me, Do you like this list of Slogans in English for School? Also, tell us which one of the school's slogans list you like the most.
If you have also an idea about generating a school slogan kindly comment.